REYKJAVIK AIRPORT (RKV) INFORMATION
Origin
Airline
Flight no.
Scheduled
Est./Actual
Status
No flight arrivals were found at Reykjavik Airport.
Destination
Airline
Flight no.
Scheduled
Est./Actual
Status
No flight departures were found at Reykjavik Airport.
Car Hire at Reykjavik Airport
UNBEATABLE VALUE CAR RENTAL
Free Amendments | Free Cancellations | No Card Fees




Reykjavik Airport - All Information on Reykjavik Airport (RKV) Reykjavik Airport
101 Reykjavík, Iceland
phone +354 424 40 00
phone+354 420 0750 (Lost + Found)
emailbirk@isavia.is
Facts and History about Reykjavik Airport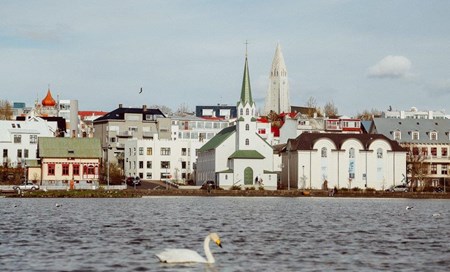 Reykjavik Airport (Icelandic: Reykjavíkurflugvöllur) is the main domestic airport in Reykjavík, which is the capital of Iceland. The airport is located about 1.2 miles / 2 km from the City Center of Reykjavík.
The nearest alternative airport to Reykjavik Airport is Keflavík International Airport located approximately 22.3 miles / 36 km from Reykjavik Airport. Keflavík International Airport is the largest airport in Iceland and the country's main hub for international flight routes. Keflavík International Airport is located 31 miles / 50 km from Reykjavik City Center.
Reykjavik Airport mainly serves internal flights within Iceland and to Greenland, as well as small international charters, and private flights. In order to be able to distinguish the airport from Keflavík International Airport, it is sometimes unofficially referred to as Reykjavik City Airport, Reykjavik Domestic Airport, or Reykjavík International Airport.
Reykjavik Airport carries the international airport code of RKV (IATA) and BIRK (ICAO). The airport sits in a slightly elevated location at 44 feet/14 meters above sea level at 64°07′48″ N and 021°56′26″ W. Reykjavik Airport handled 400,044 passengers in 2018.
Arrivals, Departures and Airlines at Reykjavik Airport
Airport Access
All travelers with special needs or reduced mobility can get special services at Reykjavik Airport. At RKV Airport there will be assigned staff to help provide any assistance to passengers with disabilities. Passengers requiring a wheelchair or special assistance are advised to contact the airline at least 48 hours prior to the departure of their flight. This will help ensure prompt and smooth service for all travelers.

Getting to Reykjavik Airport is easy by road. The airport is accessible from Hringbraut/Route 49 and then continues onto Njarðargata. At the airport, passengers can park their cars just outside the two airport terminals. The parking facilities at the airport are free of charge.
Terminal Information
Reykjavik Airport operates three runways. Two of the runways are currently active all-year-round, while the shortest runway, 06/24, is normally only used in the winter season. The two main runways at the airport are 01/19, which is 5,140 ft. / 1,567 meters long and 13/31, which is 4,034 ft. / 1,230 meters long. The runways of Reykjavík Airport are open from 07:00 am to 11:00 pm on weekdays and from 08:00 am to 11:00 pm on Saturdays, Sundays, and on public holidays.
All passengers will find two terminals at the airport. The main terminal handles both international and domestic traffic for Air Iceland and a smaller terminal, which serves domestic and international business for Eagle Air flights.
Airport Information
There are no ATM's available at Reykjavik Airport, however, the City Center of Reykjavik is only a short walk from the airport, where travelers can find ATMs.
If you have lost your baggage at Reykjavik Airport, you have to contact the ground-handling agent for your specific airline. You can find more information on your airline's website. The ground-handling agents at Reykjavik Airport can be found below:
Eagle Air Iceland
Air Iceland Connect
Car Rentals
All travelers will find a few of the major rental car companies at Reykjavik Airport, including Avis, Budget, Europcar, and Hertz. You will also find the local car hire company, RAS, at the airport.
We highly recommend that all travelers make their car hire reservations as soon as possible before arriving at Reykjavik Airport. This is due to the fact that there is only a limited number of vehicles available for walk-up consumers.
Transport
All travelers can enjoy easy travel options to and from the airport via buses, taxis as well as car rental. However, passengers will not find any train connects directly from Reykjavik Airport.
All travelers can use the scheduled public transportation bus services (Strætó), which is operating from Reykjavík Airport. The buses are departing from both the Air Iceland Connect terminal and the Eagle Air terminal. The bus stops are located just outside the passenger terminals.
Furthermore, taxis are available on the ground transportation area outside both of the passenger terminals at Reykjavik Airport. A taxi trip from Reykjavik Airport to the City Center of Reykjavik takes approximately 10 minutes.
Hotels near Reykjavik Airport
There are a number of hotels to suit all budgets and requirements at or near Reykjavik Airport.
Parking at Reykjavik Airport
See options for parking services at Reykjavik Airport.
Additional Services and Amenities at Reykjavik Airport
At Reykjavik Airport you will find the usual array of bars and restaurants, airport lounges and shops.
Things to do in Reykjavik
There are a number of activities to suit all ages and interests in the region - see a selection of tourist activities in Reykjavik City, Iceland.
Airport Contacts
Address: 101 Reykjavík, Iceland
Phone: +354 424 40 00
General Email: BIRK@ISAVIA.IS
Lost & Found Phone: +354 420 0750
Official website: https://www.isavia.is/en/reykjavik-airport
Local Information
Drive on: Right
Electricity: 230V/50Hz
Plug Type: C, F
Currency: Icelandic Króna (ISK)
Services at Reykjavik Airport
Useful Information about Reykjavik Airport